The 9 Best Electric Racing Go-Karts for Adults
Go-karting is fun and thrilling. However, it is an activity that is usually associated with the younger generation (especially kids and teens), so go-karts are primarily produced for that age range. As such, finding electric go-karts for adults is not always easy. 
They may be challenging to find, but there are high-performance electric racing go-karts that are built explicitly for adult riders. These range from the sleek BSR 2.0 Racing Track Pro built for racing professionally on plain tracks to the sturdy MotoTec Maverick Go-kart made for racing on dirt roads.
We've done the hard work of exploring the electric go-karts for sale. In this post, we bring you the result of that research - the nine best electric racing go-karts for adult riders.
What are the best electric go-karts for adults?
There are many terrific adult electric racing go-karts for sale. Hereunder, we present 9 of the best in the market. Our choices are rated based on: 
performance (motor, controller, and battery set up)

design

safety 

ergonomic features

and customization options
Let's look at these nine go-karts in detail.
1. RiMO SiNUS iON
The SiNUS iON model from RiMO is one of the best electric go-karts in the market for adult riders. Made in Germany, the go-kart uses two electric motors, each with a rated output of 2.8 kW and a maximum of 12 kW.
RiMO SiNUS iON is fitted with 100 Ah LiFeMnPO4 (lithium-iron manganese-4-phosphate) batteries that give a short charging time and an extended driving time. It takes approximately 1 hour to charge the battery,  and you can drive the fully charged kart for up to 60 minutes. Two fans are integrated into the sidepods that allow for the permanent cooling of the batteries. 
The SiNUS iON can reach a top speed of 65km/h, making it one of the fastest racing go-karts.
It uses a hydraulic dual-circuit braking system, and the braking fluid is hydrophobic and does not require replacement. Also, brake energy recovery is another innovative feature of the go-kart. This minimizes brake pad abrasion. 
The go-kart comes with a stunning and sporty design. Integrated LED headlights emphasize the sporty look and make for improved visibility. The 186kg electric go-kart comes with an all-weatherproof design. This means that you can drive it even in the rain. 
2. BIZ Karts ECOVOLT NG+
The ECOVOLT NG+ is an excellent electric racing go-kart from London kart manufacturer BIZ Kart. It is built explicitly for adults seeking go-kart racing fun.
It is an upgrade of the company's high-performing ECOVOLT NG model. This upgrade brings updated electronic components, motor packages, and body works improvement.
It features a brushless 10.5kW interior permanent magnet (IPM) motor, which gives it 45Nm of torque. This is combined with a compact and reliable 48V 350A motor controller and lightweight 51.2V 3kWh Lithium-Ion (LFP) batteries.
Some other unique features of the BIZ Kart ECOVOLT NG+ are forward and reverse operation, an emergency stop switch, four-speed control settings, remote shutdown, tri-color motor controller and battery diagnostic LED indicators, and waterproof wiring harness.
The go-kart also features a self-adjusting hydraulic brake system and an adjustable sliding seat. This makes it a fine one-for-all-size adult go-kart.
To make the go-kart even more comfortable, you can opt for an upholstered seat. Other customizable options include roll bar and seat belt, active battery cooling, LED brake light, and a choice of chassis color.
3. BIZ Karts ECOVOLT GT
The ECOVOLT GT is the successor of the ECOVOLT NG+. As expected, it keeps the high points of the NG+ model while bringing in many improvements.
Like the NG+, the GT uses the same 10.5kW brushless electric motor, which produces a torque of 45Nm. It is also combined with a 48V 350A motor controller.  A noticeable improvement of the GT over the NG+ is the battery technology. It uses the latest in lithium technology. It comes with 5.34kWh 106Ah lithium batteries. These offer an increase of 74% in battery capacity and a reduction of 23% in battery weight over the NG+. The GT quickly reaches 1 hour run time. 
In addition to the endurance improvement, the ECOVOLT GT offers remote battery monitoring and remote diagnostic capabilities. There's also a temperature-controlled active battery cooling. 
An F1 Style steering wheel is available on-demand. Coming standard with the GT is steering wheel-mounted forward and reverse buttons, emergency stop switch, and ignition button with Halo LED. 
Like the NG+, the GT also comes with adjustable pedals and an adjustable seat. Allowing for different-sized drivers to use the go-kart easily. The ultimate comfort, the seat of the GT has anti-vibration mountings. Rollbar, inertia seat belt, and LED smart lights are some of the customizable options of the ECOVOLT GT.
4. OTL STORM EFD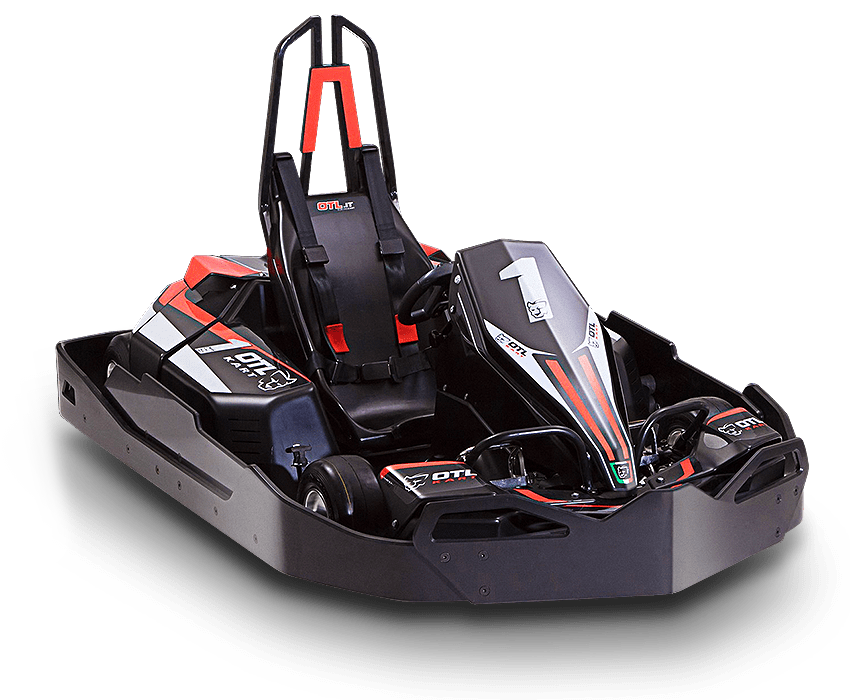 A list of the best electric go-karts for adults cannot be complete without mentioning Storm EFD from Italian go-kart makers OTL.
The Storm EFD is easily the most popular rental go-kart, and it's widely used in indoor go-kart racing facilities in the United States. 
The go-kart is so famous because it is like a toned-down F1 car. The Storm EFD does an excellent job of simulating an F1 racing experience.
It comes with a powerful 48V 4kW electric motor with magnetic induction. With this, the Storm EFD can reach its top speed of 45mph (72km/h) in only 5 seconds.
While the performance is impressive, the standout feature of this go-kart is its F1-style steering wheel. An interactive touchscreen is mounted on the steering wheel, which allows the driver to view the tachometer, battery charge, and more.
The steering wheel also features a "push to pass" boost button and a reverse button. Taking the F1 experience simulation to great heights, the Storm EFD also has a realistic F1 sound.
It also comes with a lot of customizable options. You can opt for paddle shifters to allow you to drive in manual or automatic mode. It can come with adjustable steering and pedals so that it fits a wide range of different-sized drivers. You can also opt for LED headlights.
5. SODI LRX 
This adult electric go-kart brings together the fantastic design of SODI LR5 (for kids) and the electrical technology of SODI RSX.
SODI LRX is fitted with an ENGEC brushless engine - a compact and reliable asynchronous electric motor specifically adapted for kart racing. This engine allows the SODI LRX to perform bursts of speed and linear ramps-up.
The go-kart comes with three battery options - a lead-acid battery, a 26Ah lithium battery, and a 32.5Ah lithium battery.
The Sodi LRX is designed as a leisure racing kart, so it is not as fast as other specialized racing go-karts for sale. However, it can reach a top speed of about 45mph. Also, the go-kart comes with an F1-style steering wheel.
This go-kart has a lot of unique ergonomic features. A height-adjustable steering wheel, adjustable pedals, and adjustable seat all come standard. These allow the kart to fit drivers of different sizes and leg lengths comfortably. 
The go-kart also has fine safety features. There's an anti-gas brake system that prevents accelerating and braking simultaneously. There's also a lock & charge system that prevents usage of the kart when it is charging.
The SODI LRX has LED headlights integrated into the front bodywork. Notably, the racing go-kart is built to FFSA technical and safety rules for karting, as well as to CIK-FIA recommendation for leisure karting. 
6. BSR 2.0 Racing Kart Pro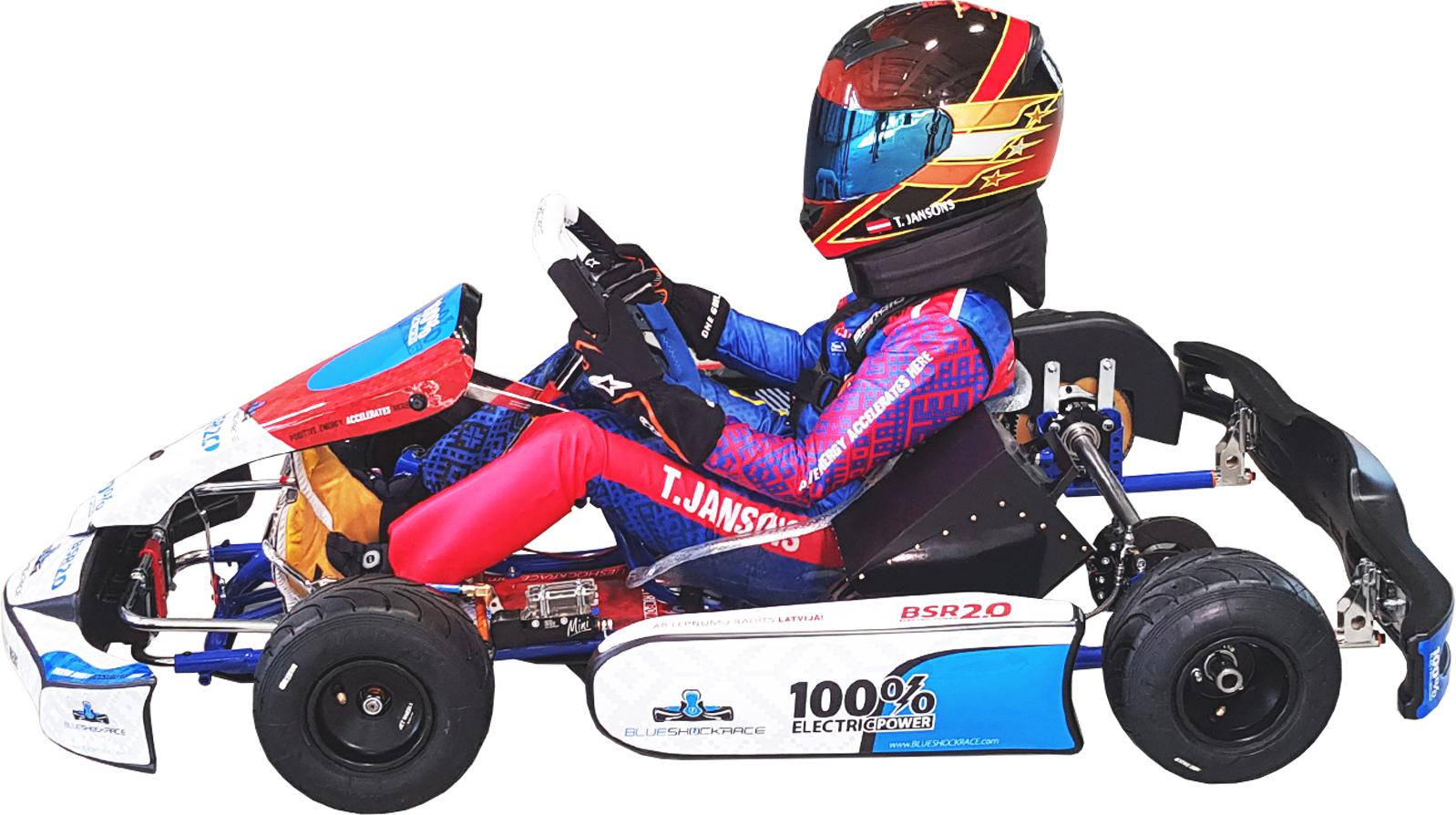 The Racing Kart Pro from Blue Shock Race has been described as "the Tesla of electric karts." It definitely is one of the best electric go-karts for sale.
It is equipped with a 25kW brushless electric motor. The powerful engine makes the BSR2.0 one of the fastest electric go-karts globally. It reaches a top speed of 120km/h and can accelerate from 0 - 100 km in 4 seconds. The engine is combined with a 350A controller. With its speed, the BSR 2.0 is the ultimate electric go-kart for racing professionals. It gives the real F1 racing experience. 
The go-kart comes equipped with a 56Ah 96V Li-Ion battery. This takes approximately 30 minutes to charge and will last for about 30 minutes. In races, BSR also uses the Quick Swab Battery system. This means that if your batteries are running out of power, you can quickly swap them for a new set instead of waiting to charge them. Swapping takes just about 2 minutes.
The BSR 2.0 Racing Kart Pro also has ergonomic features. The seat is adjustable. It slides back and forward, allowing the kart to fit drivers of different sizes comfortably. It also comes standard with a seat belt. The kart features regenerative braking that is adjustable for each track. It also comes with rear braking lights.
7. Segway Ninebot Go-Kart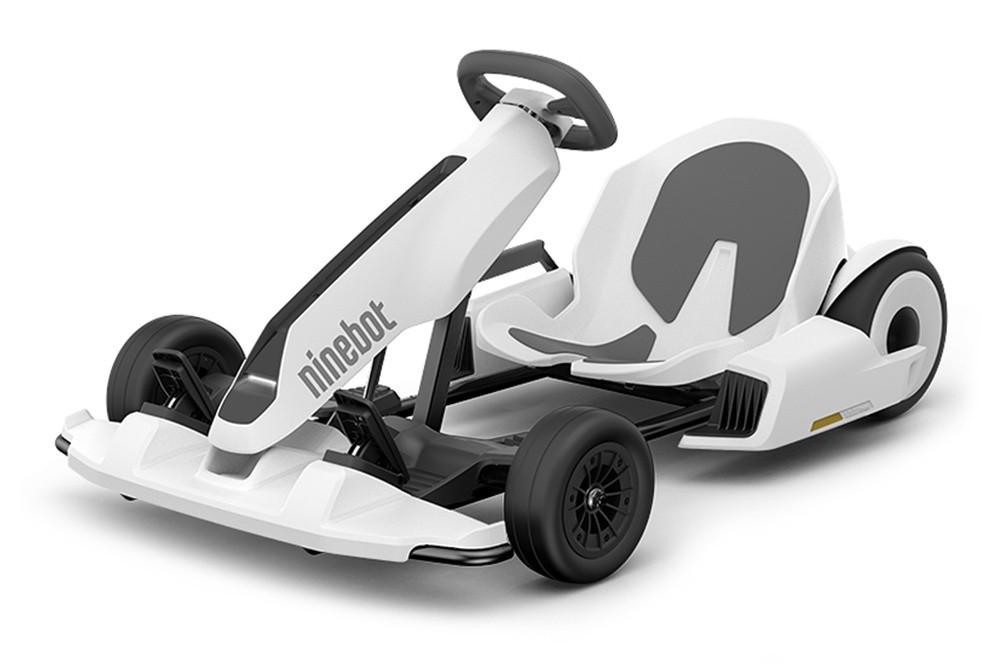 The Ninebot go-kart is the definition of simplicity. The compact go-kart amazingly gives high performance.
It is fitted with two motors with 800W maximum power each. The go-kart allows you to choose one of three driving modes, depending on your expertise. These are Novice mode that reaches a top speed of 5mph. Standard mode, which reaches a top speed of 11mph, and Sporty mode, which reaches a top speed of 15mph.
The Segway Ninebot go-kart is one of the few go-karts that can be driven in reverse mode, with a reverse speed of 2mph. 
The go-kart weighs 61.3lb (27.8kg) and can carry a load of up to 220lb (100kg). It is also designed to fit most riders, as it has an adjustable frame and steering wheel.
The electric go-kart has LED headlights and LED status indicators. It also works with an app. If the status indicator shows a red  (performance failure), you can open the app to trace the problem.
The Segway Ninebot uses a dual braking system - an electronic brake and a mechanical handbrake to deliver higher performance. You can use the handbrake for emergency braking or when the electronic brake malfunctions. 
Lastly, the Ninebot go-kart is very portable. It is collapsible, allowing it to fit in the trunk of most vehicles. 
8. Ferkart RKZ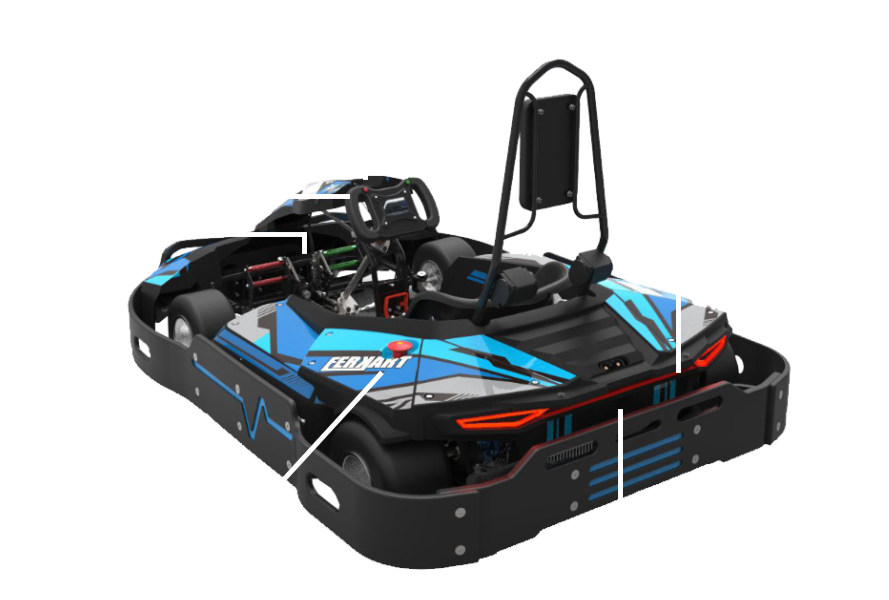 Ferkart is a new company in the business but, with the RKZ, it already has an electric racing go-kart that is one of the best on sale.
It is fitted with an asynchronous brushless electric motor and a long-lasting lithium battery that surpasses the competition's lap time by 2 seconds. This gives the Ferkart RKZ a top speed of 60mph (96km/h). With this speed, the RKZ is one of the fastest adult electric go-karts on sale.
The Ferkart FKZ is built to simulate the premium racing experience. This is evident in its F1-style steering, which comes complete with an LCD screen. The interactive screen displays speed, lap time, position, and more. The steering also features a reverse button as well as a push-to-pass button.
The go-kart comes with an F1 sound kit. This produces the sound of F1 cars for a really immersive racing experience.
The go-kart uses hydraulic brakes with ventilated sports discs. It also comes with high-density polyethylene (HDPE) modules for impact protection. For safety, there's also a 4-point seat belt system and an emergency stop button.
Ferkart FKZ also features an adjustable seat and pedal system that provide comfort for all drivers. Other ergonomic features include a rollbar with a headrest. The sporty look of the Ferkart FKZ is completed with LED headlights and taillights.
9. MotoTec Maverick Go-kart
The maverick go-kart from MotoTec is a rugged machine suited for all roads and built to last.
It uses a powerful 36V 1000W brushless electric motor. It is one of the few go-karts models that allow riders to choose a driving mode based on their tolerable speed limits. It has three adjustable speeds - 10mph, 15mph, and 20mph.
The Maverick go-kart uses three 12V/12Ah lead-acid batteries, which give a drive time of about 40 minutes. However, its charge time is 4 - 5 hours. 
The go-kart weighs 150 lbs and can support a rider weighing 154 lbs. It comes with a full roll cage safety bar. Other safety features include a seat belt, a full chainguard, and a foot-operated hydraulic rear braking system.
The Maverick go-kart can be driven in forward and reverse mode. It has a key start which makes it very easy to start. It also features a battery meter which allows drivers to see how far spent their battery power is.
This go-kart is one of the best you'll get for racing on dirt roads.
You can also check our article on The 12 Best Electric Bikes for Every Kind of Ride.
Conclusion
The thrill of go-karting is not just for kids and teens. Adults can join in on the fun, and there are high-performing electric go-karts for adults.
There's the BSR 2.0 that is built for racing professionals, there's the SODI LRX that is built for leisure racing, there's the sporty RiMO SiNUS iON, there's the very portable Segway Ninebot go-kart, and there are the highly customizable ECOVOLT models. There are the F1-style go-karts (OTL Storm EFD and the Ferkart FKZ ) that beautifully simulate the F1 racing experience.
Find the best electric go-karts for sale in the one-stop-shop for all your riding needs. Check out the MotoTec maverick go-kart, which is excellent for dirt road racing.