5 Best Go-Kart Racing Engines in 2021
If you plan to build a go-kart, the engine is the most important part to consider. You have to remember that go-kart motors will run the whole unit. Without a good engine, your go-kart will not perform its best during the race.
There are tons of go-kart parts available and there are so many engines to choose from. If you want to make sure that you can choose the right one, we listed down some of the best options that you can get from the market.
Best Go Kart Motors
1. DuroMax XP7HPE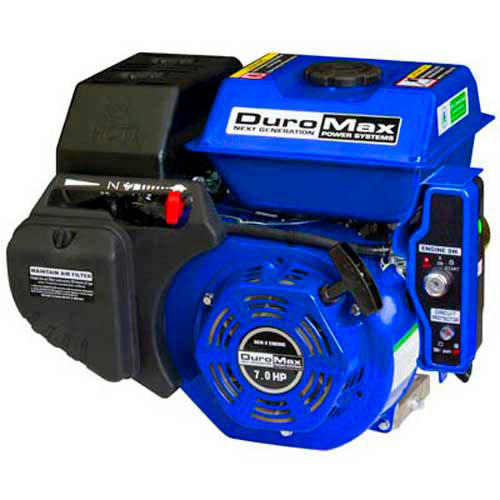 The DuroMax XP7HPE is considered the best go-kart engine that you can get on the market. It is equipped with the best features and the cost-to-performance ratio is definitely worth it.
This engine has a 4-stroke overhead valve that can produce a maximum output of 7 horsepower at 3,600 rpm. You don't want an engine that is too fast when it comes to go-karts. You need to pay attention to balance more than anything else. It is also known for its full EPA and CARB compliance, which means that you can use it in different states.
Aside from its powerful engine, it is also fuel-efficient. Powerful engines use more fuel compared to standard models, but this engine only uses 1 gallon for 4 hours straight before you need refueling.
One of the best features of this engine is that it comes with a clear valve cover so you can see the pistons from the engine while it's operating.
2. Lifan LF 168F-2BDQ
Just like DuroMax, the Lifan LF 168F-2BDQ is also one of the best engines that you can use for go-kart racing. If you're not a fan of engines that are too powerful and you want something on the mid-range, its 6.5 hp output is more than enough to give you the power and speed on the track.
It features an industrial-grade OHV 4-stroke engine, which is very sturdy and efficient. The compression release for E – Z starting will shut down the engine automatically if the oil is already low. This would protect the efficiency of your engine and prevent any future problems.
Another amazing feature of the Lifan LF 168F-2BDQ is its electric start ignition. You don't need a pull cord to start it like the other traditional models. With a simple press of a button, you can immediately start the engine and begin the race.
Compared with the DuroMax, it only has a 0.95 gallon fuel capacity, but it is more than enough to keep you on track during a race. If you want a more affordable engine, this is a great option for you.
3. DuroMax XP16HPE
The DuroMax XP16HPE has the most powerful engine on this list with a whopping 16 horsepower at 3600 rpm. Compared with the other two, this engine will leave them in the dust. This is a high-performance engine made specifically for go-kart racing and it is meant for high-level races as well.
This engine runs very efficiently and it has high-quality parts. With EPA and CARB certified engines, you can use this go-kart no matter where you go. With its powerful engine, you can expect that its go-kart parts are very sturdy as it won't be able to withstand the power if the parts are made from cheap materials.
This engine also comes with an air cleaning system that will clean the dirt, dust, and other debris from the engine. Take note that this dirt and dust can affect the running condition of the engine so this cleaning system is definitely a huge boost, especially if your engine is running very fast.
The only issue with this is that this kind of engine is not applicable for beginners. Mid-range and professional racers are usually the ones who are using this type of engine.
4. AlphaWorks 7HP
The AlphaWorks 7HP is another go-kart engine that you should not ignore because it is one of the top choices when it comes to entry-level to mid-level go-kart motors. It has a displacement of 209cc with a maximum output of 7 horsepower, which is pretty much the threshold for mid-range engines. It is also manufactured for OSHA/ISO regulation and it is EPA and CARB certified, which means that it is usable in different states.
One of the best reasons to choose this engine is its Transistorized Magneto Ignition (TCI) system along with the forced air-cooled system that will always keep the engine at its normal running temperature. This is a great feature to prevent the overheating of your engine, especially when you are using it for a long time.
Like the other models, it also has an automated engine shut-off sensor to prevent damage to your engine when the oil levels are low. There are instances when we forget the oil levels and this feature will remind you of it.
5. XtremepowerUS 7HP
The last go-kart engine on the list is pretty much the same as the DuroMax XP7HPE in terms of basic specifications. It also offers the needed balance in terms of speed and durability. This engine is a great choice because it would still run smoothly in different types of weather conditions. As long as it's not severe, this engine will not let you down when you're driving on the track.
The engine is made from industrial-grade materials so you can expect that it would last for a long time with proper maintenance. It comes with a cast-iron cylinder frame that provides better durability to the entire engine. Like the other models, it comes with an automated shutdown functionality when the oil is low. This would prevent structural damage to the engine and always keep it running smoothly.
With its 7 horsepower output and a large 1 gallon fuel tank, you can drive on the track for a long time.
You can also check our article on The 9 Best Electric Racing Go-Karts for Adults.
Conclusion
It takes time to fully understand the features of go-kart motors. You can pick any engine you want from the list, but you still need to know how you can benefit from them. Make sure that you pay attention to your skill level since there are engines that are made for professionals. If you're still a beginner, you better stick with entry-level engines as they are the easiest to use.
If you need a solid go-kart engine to replace or upgrade your current one, there are a lot of options on the Internet to choose from.