Top 4 Folding Mobility Scooters for 2021
In recent years, advances in fold and go mobility scooters have been a real godsend to people with mobility issues. And you can see why. So much more comfortable than wheelchairs, not to mention easier to maneuver. The popularity has led to an increase in supply and a welcome drop in prices too. Yay! The hard part now can be sifting through the options! 
And that's what this article will do for you today.
We will guide you through the considerations you need to make before you look for your scooter, and then give you the top four folding scooters of the year. Sound good? Here we go…
Things to consider before you buy 
Mobility scooters offer a simple and affordable way for you to maintain your independence, even when you have issues that threaten to restrict you — popping to see friends or picking up prescriptions. Whatever. They're easier to use, practical and portable — a real life-changer for so many. 
But they are a medical aid as well as a lifestyle choice, and these are considerations you need to factor in before you make any decisions. 
Here are the main things you need to bear in mind:
What types of journey do you expect to make
Will they be short, everyday trips on relatively smooth terrain? I.e. pavements and well-maintained paths. 
Or will it be needed for more occasional forays out, like meeting friends and family?
Will you need to make longer journeys? Will any hills be involved?
All these questions will inform the decision you need to make regarding the specifications and features of your folding mobility scooter.
It'll need to be stored somewhere safe and dry when it's not in use. Maybe you have room in a hallway or your living area? A spare room? (if you're lucky enough to have one!)
Will you need a ramp to bring it into the house? In fact, will it get in and out of the doorways? (The folding action here is a real bonus).
And, of course, you'll need to charge its batteries overnight, so your storage location needs to have a mains supply, ideally.
It's a delicate subject, but your weight also plays a part in your decision-making. Some lighter models have a lighter weight limit - around 120/130 kg for portable ones.
If you buy a scooter with a recommended capacity lower than your actual weight, then your warranty could be invalid; please be wary of that! 
Not to mention, if you are too heavy for your model, then the scooter can be a lot less stable too.
And, of course, your budget! Assuming you aren't related to JD Rockefeller, you need to consider how much you can afford. Yes, it's a necessity, not a luxury item, but everyone still has the figure they just can't go above. 
Luckily, the popularity has dragged the prices down, and you can get a basic model for under a thousand dollars these days (obviously rising in line with the features they include).
What are the top folding mobility scooters for 2021?
BEST ON A BUDGET
Who said you had to compromise on features at the budget end of the scale?
The Mototec Folding Mobility Electric Trike has plenty going for it, as well as the price tag.
A compact, three-wheel that provides a sharp turning radius. The pair of hub motors built into the rear allow for impressive torque for riding uphill, and the lightweight aluminum frame is pleasantly durable. 
The headlight, key start, dual rear drum brakes, rear reflectors, and 10inch air-filled tires all come as standard and make for a safe and comfortable ride. 
MOBILITY ELECTRIC TRIKE FEATURES
Charge time

: 4-8 hrs

Max rider weight

: 286 lbs

Range Per Charge

: 20 miles (weight dependant)

Scooter Size

: 42 x 22 x 33 inches

Folded Size

: 17 x 22 x 33 inches

Scooter Weight

: 62 lbs (with battery)
EASIEST FOLDING
We are big fans of the automatic folding and unfolding here: just a touch of a button.
This is another of EV Rider's increasingly impressive range of scooters, all boasting the engineering that comes from 30 years in the industry. Powered by an ultra-lightweight 8.7Ah Lithium battery, it has dual-hand two-way throttle control, LED headlights, and a nice, tight turning radius.
Yep, EV Rider, you've done it again!
MOBILITY SCOOTER SPECIFICATIONS
Overall Length

: 33.5″ in / 85cm

Overall Width

: 18.3"in / 46.5 cm

Folded Overall Length

: 30" / 76 cm

Folded Overall Width

: 16.5″ / 42cm

Folded Overall Height

: 17.7" / 45 cm

Weight with 25.2V 11.5Ah Li-Ion Batteries

: 51.8 lbs / 23.5 kg
BEST FOR ACTIVE LIFESTYLE
The Transport Foldable is a stylish and sleek addition to the range. It's super portable - folding is a doddle - and perfect if you are out-and-about plenty and need to consider where to park it while you enjoy yourself! 
It can be stored upright in even a closet or a corner. Can't complain about that!
MOBILITY SCOOTER SPECIFICATIONS
Overall Length

: 33.5″ in / 85cm

Overall Width

: 16.5″ in / 42 cm

Overall Height – at Maximum Tiller Height

: 33.5″ in / 85cm

Overall Height – at Minimum Tiller Height

: 30″ in / 76cm

Folded Overall Length

: 30" / 76 cm

Folded Overall Width

: 16.5″ / 42cm

Folded Overall Height

: 17.7" / 45 cm

Weight with 25.2V 11.5Ah Li-Ion Batteries

: 44 lbs / 20 kg

Charging Time

: 4 – 6 hrs

*Driving Range

: Up to 10 miles

Load Capacity

: 250 lbs / 115 kg
BEST FOR VALUE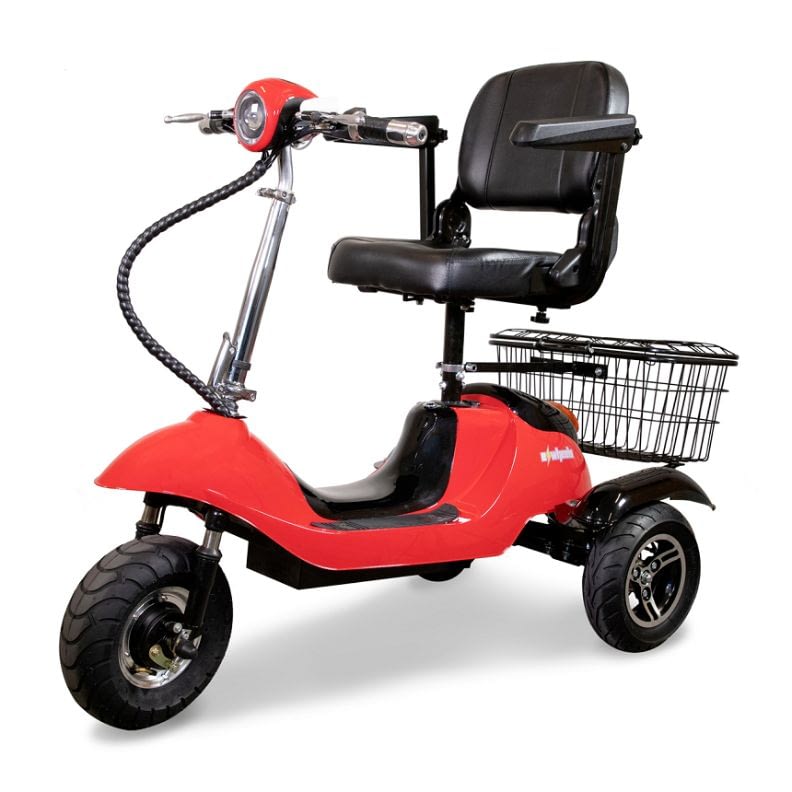 Arguably the best long-range, high-speed scooter out there today. Where do we start with this one? *Deep breath*
The large, super comfortable swivel seat. The stylish black matt finish. Twenty-one miles to a single charge. The extra storage basket at the back. A cell phone holder. A USB Port.
And if you're still not sold, it's shipped fully assembled and ride-ready. Oh, and with a three-year warranty. Always a nice bonus!
EWHEELS EW-20 SPECIFICATIONS
Weight Capacity: 300 lbs
Distance: 21 miles per charge (distance varies on terrain, rider's weight, road surface, etc.)
Power: Electric
Dimensions: 55" x 26" x 38" (LxWxH)
Scooter Weight: 128 lbs
Battery Indicator: Yes
Front Suspension: Yes
Rear Suspension: Yes
Electric Horn: Yes
Cell Phone Holder: Yes
USB port: Yes
Warranty: Limited – 3 Year Warranty
You can also check our article on Eco-Friendly Commuting Just Took a Stylish Turn: The Best Electric Scooters.
Conclusion
Hopefully, we've given you plenty to think about there. But that's not all - check out our website for over 50 mobility scooter options: wheelywheels.com. We're confident we have just the fold-and-go scooter for you. Our friendly experts are ready for any and every question you might have. 
Give us a try!