Six Best 3 Wheel Scooters for Kids
Just because your little Sophie isn't big enough to copy her siblings on their bikes and motorized scooters yet, doesn't mean she has to miss out on all the fun! 3-wheel scooters have absolutely blown up in popularity in recent years - for kids as young as 12 months even.
Those two wheels up front have that much more stability than traditional scooters. If your toddler can stand, then they can pretty much just hop and go. The "lean-to-steer" steering is something that comes to them pretty intuitively. 
But with all that choice, which to go for? That's what we'll do for you in this very article. We'll run through what you need to look out for when buying, then list what we think are the six best 3 wheel scooters for toddlers!
Things to consider 
The in-built stability and ease-of-use are what makes them such a popular choice, of course - the broader foot platform adding further balance.
Here are some points you should bear in mind before you make your choice:
(Please note: We would not recommend 2-wheel scooters for toddlers, no matter how precocious you think your little one is! Their motor skills simply aren't developed enough)
How many wheels should I look for? 
3 or 4 wheels are recommended for kids under five years old. 2 wheels at the back are easier for toddlers to balance but won't help them develop those skills like the 3 wheel (with just one at the back) would.
Not essential, but I don't know a single family like ours that couldn't do with more space! Whether for storing in the house or if you're folding it up, out-and-about. A simple, 1-click mechanism is another bonus feature to look out for.
Lighter ones are easier for the kids when it's their turn to do the carrying!
Most 3 or 4 wheeled scooters are 'lean-to-steer' - as the rider leans in a given direction, the scooter gently curves that way too, with the handlebars providing balance, in the meantime - easier, smoother AND safer, which is why we always recommend them for the toddlers.
Are the handlebars adjustable?
Not a deal-breaker, but height adjustable stems are very useful for a safer and more comfortable ride. The handlebars should be roughly waist height.
If the price feels too good to be true…
…it probably is. With the explosion in popularity came the inevitable influx of bikes that didn't meet safety regulations or anything like the standard you want in any bike your young child is riding. Look for an established name with plenty of reviews, vouching for its credibility and competence.
What are the Six Best 3 Wheel Scooters for Kids?
1. My First Folding Scooter dinosaur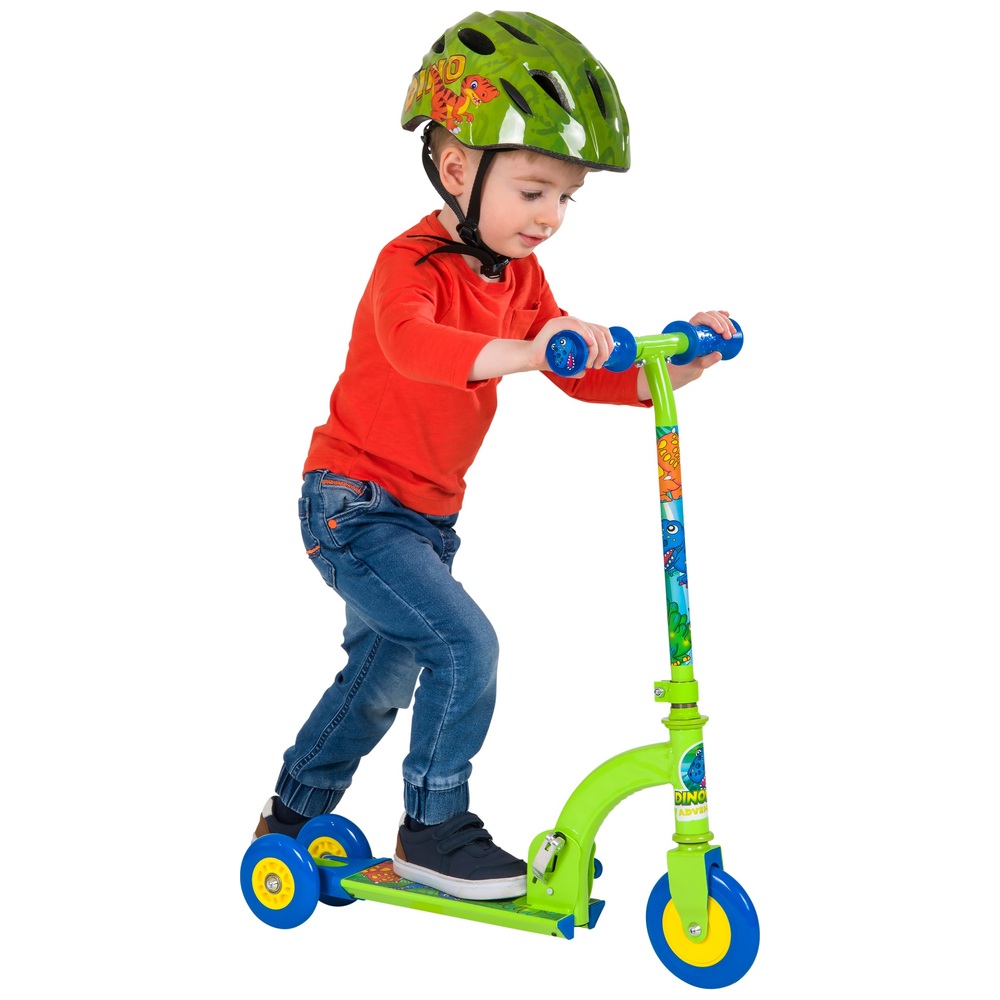 Suitable for ages: 2+
Weight of scooter: 2.68 kg
Max child weight: 20 kg
Handlebar height: 65cm
What we loved about this scooter was its value-for-money. Very much at the cheaper end of the market, it not only looks fun but it is foldable AND it adjusts from 4 wheels down to 2 - so you can just alter them as your child grows in confidence.
Sure, its footplate is skinnier than most, and it's not as smooth as some of the more expensive ones - that's to be expected - but it's still a great value scooter.
2. Globber Go Up Foldable
Suitable for ages: 10 months to 3 years
Weight of scooter: 2.68 kg
Max child weight: 20 kg
Handlebar height: 67.4cm to 77.5 cm
This is a fantastic option when teaching your kid how to ride. It starts off as a ride-on, with a steering lock you can release as they master their balance.
In scooter mode, it has a handlebar stem that can be adjusted to three different heights and an easy folding mechanism. It comes in a few funky colors too- we loved the Mint!
3. Micro Kickboard Mini Deluxe
Suitable for ages: 2-5 years
Max child weight: 35 kg
Handlebar height: 43cm to 64 cm from deck
It's at the top-end of the market, but you pay for the quality and reliability Micro brings to all their products. They never compromise on design or durability.
The reinforced fiberglass foot deck makes for a smooth ride (absorbing impact from the ground), while the handlebar doesn't have the usual selection of 2/3 heights but is fully adjustable: from the tiniest toddler to the biggest.
4. Smoby 2-in-1 Switch Scooter 
Suitable for ages: 18 months to 3 years
Weight of scooter: 2.8 kg
Max child weight: 19 kg
Handlebar height: 53cm to 63cm
This one starts as a balance bike, which turns into a scooter in a few easy (tool-free) moves. I like the color scheme they have gone with, but what I like even more is how sturdy it feels. It's a solid value-for-money scooter that should be able to grow with your child.
5. Micro Mini 3-in-1 Deluxe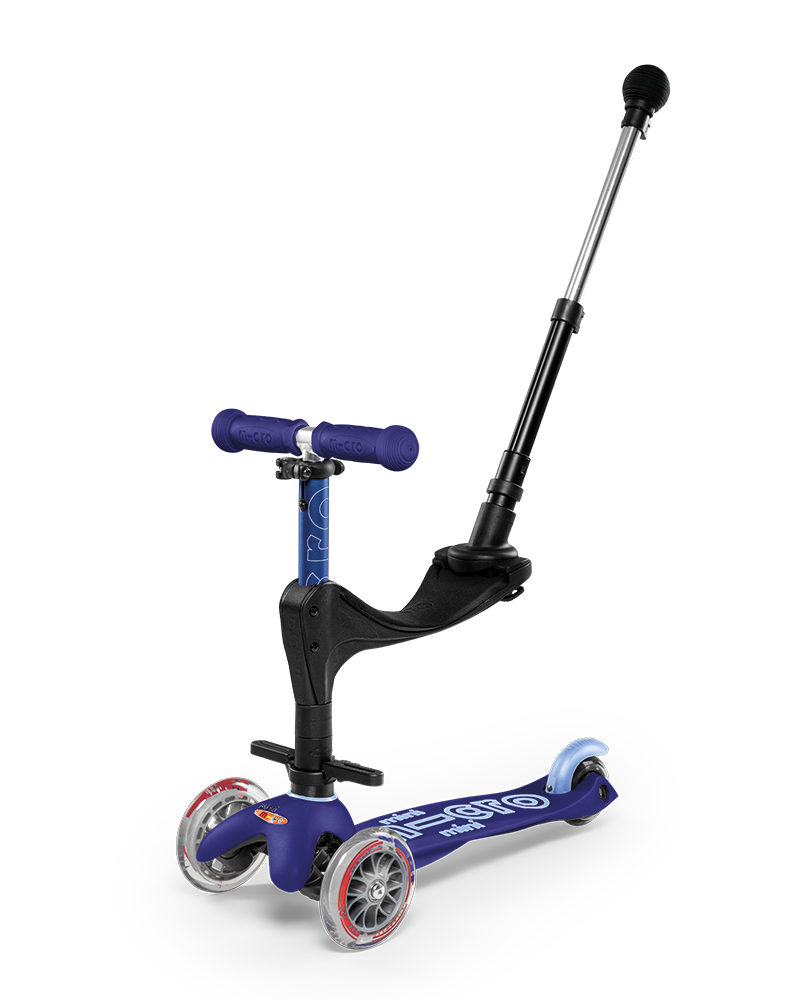 Suitable for ages: 12 months – 5 years
Max child weight: 34 kg
Handlebar height: 46cm to 64cm from deck
This one is pure genius. Micro has souped-up their popular Micro Mini Deluxe (that we looked at earlier) with two innovative features that make it safe for a toddler as old as one year old to use it! 
The first setting has a seat for them to sit on; the second, a short handlebar they can grab onto as they learn to stand (and then scoot!) How good is that?
6. Mini Micro Eco Deluxe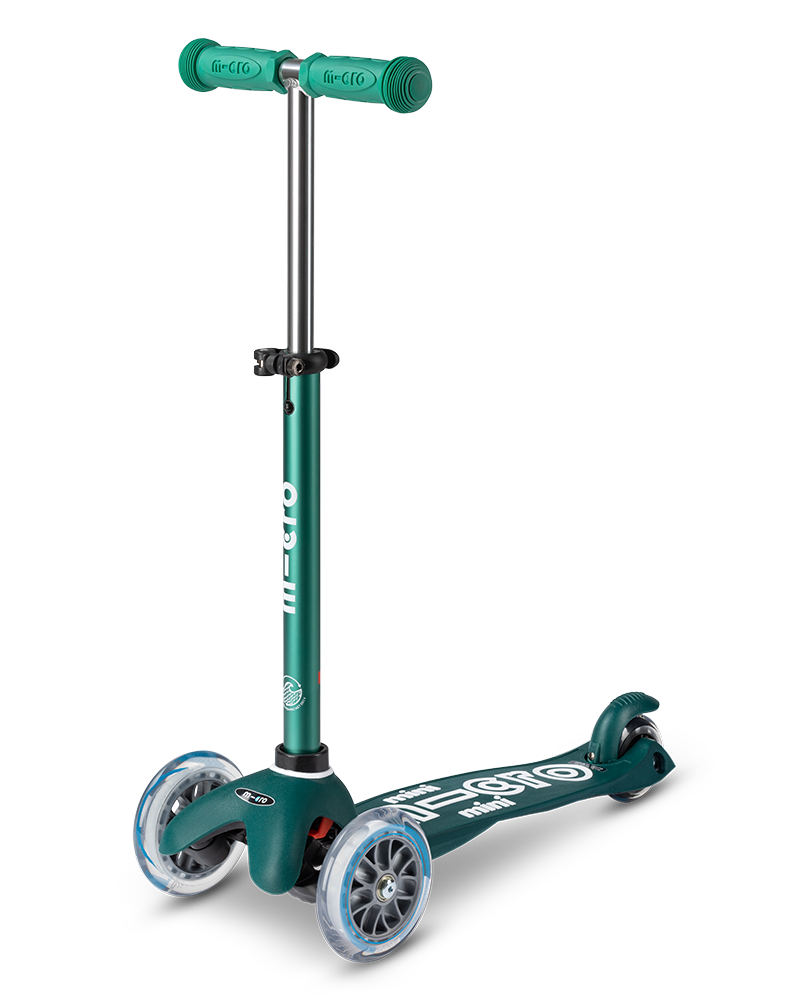 Suitable for ages: 2-5 years
Weight of scooter: 1.95 kg
Max child weight: 35 kg
Handlebar height: 49cm - 68 cm
This new addition to Micro's range is a sustainably-built scooter, right down to the recycled discarded fishing nets that serve as the (extra-grippy!) foot-deck. As well as doing your bit for the environment, you're getting a surprisingly robust scooter for one so light!
It doesn't fold up, but we'd say that was a minor quibble.
You can also check our article on the 9 Best Kids Scooters.
Conclusion
We hope this article has helped clear up your priorities and options when it comes to the best 3 wheel scooter for toddlers. As you can see, plenty of choices for you and your little one. In fact, choosing is half the fun! For more inspiration for your kid's bikes have a look at Wheely Wheels - our friendly experts are on-hand for any questions, big or small!