The Best Kids' Scooters, According to Experts
The appeal of scooters for kids is easy to see, even from our world-wearied adult eyes! They are easy to master, look cool, and are a lot more fun than walking. 
What isn't so easy is choosing between the huge range of ideas out there. And that's where we come in!
First, this article will talk you through a few things to consider when looking for an electric scooter for kids, and then through our curated expert choices just for you. So buckle up, here we go…
Things to consider 
If it is a toddler you are buying for, then 3 wheels and above are recommended. 
No matter how advanced you think little Tommy is, the 2 wheels are just too taxing on their little motor skills!
In fact, up to 5 or 6 years of age, we would say to stick to the three wheels (they'll probably grow out of them about that stage).
Aside from the number of wheels, here are a few other things you need to bear in mind:
How tall are the handlebars / can you adjust them?
What are the best kids scooters according to the experts?
1. My First Folding Scooter Dinosaur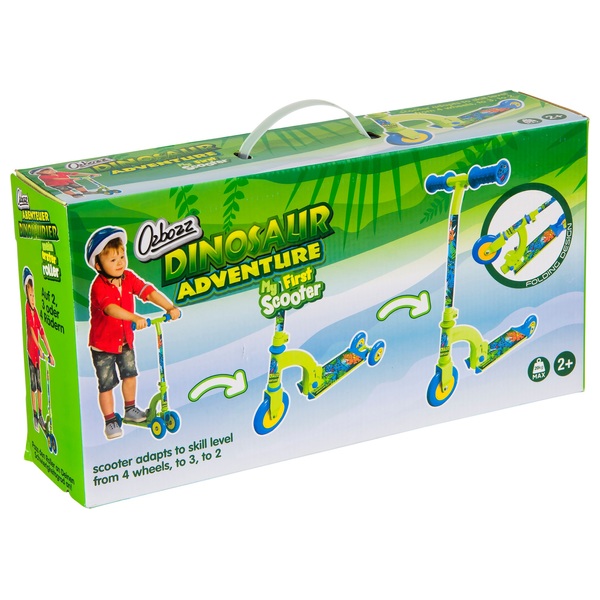 Suitable for ages 2 years +

Weight limit of 2.68 kg

65cm handlebar (non-adjustable)

Adjusts from 4 wheels to 3 to 2
This scooter scored highly for its adaptability and the fantastic value-for-money. The bold, bright colors are a sure-fire hit with the younger kids too, especially.
2. Micro Mini 3-in-1 deluxe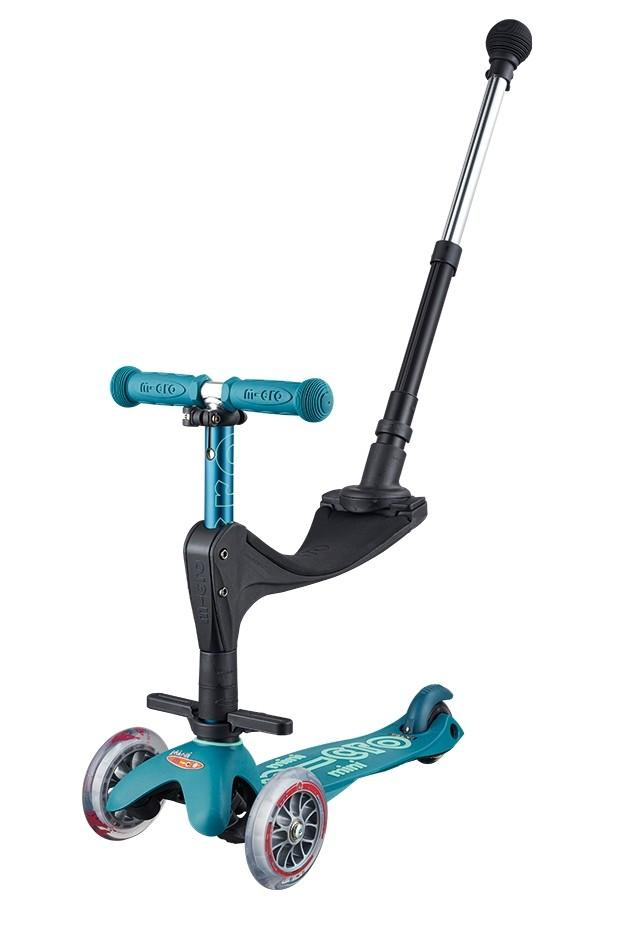 Suitable for 12 months - 5 years

Up to 35 kg weight

Cool sitting and standing mode means even toddlers can use it (with the seat)
What a genius idea! Again, adaptability is the order of the day. Here, your toddler can use the seat until they develop their motor skills and gain some experience. Then they can move onto the foot deck.
3. Micro Mini Deluxe
Suitable for 2-5 years

Up to 34 kg weight limit

Handlebars are 17"-25" from the deck
Micro is the Mercedes-Benz of kids scooters. Not the cheapest, but you can see where your money has gone with the engineering and the finish. 
Their Micro-Delux is just what you expect from them: swiss-quality design, a beautiful array of colors to choose from, with reinforced flexible fiberglass absorbing impact from the ground to give a smooth, quiet ride. 
4. Segway Ninebot E8
Suitable for 6 years + 

Weight limit of 50 kg

8.6 mph maximum speed

Includes cruise control and safety mode
Segway is another leading brand with scooters. In fact, you've probably even heard of these guys before yourself. 
The Segway Ninebots are great little scooters, available in various models and sizes, each with its respective speed and weight limits. 
The Cruise Control is an excellent touch: once the maximum speed is reached, it'll stay there until the brake is engaged. A 'Safety mode' where the parents can limit the speed themselves is another nifty innovation they've gone with.
The cherry on the cake is the speed warning that tells the kids when they are approaching their speed limit and actually slows the scooter down if they ignore it for too long!
5. Go-Trax GKS
Suitable for 6 years +

Up to 55 kg weight limit

4 miles ride-range
If the Ninebots are a bit pricey for your budget, the GoTrax GKS nails the basics at a cheaper price point.
One of the things we loved was how the scooter maintains its relatively sedate 7.5 mph speed even on downslopes, which is a bonus for the younger kids especially. 
6. Segway Ninebot ZING E10
Suitable for 8 years +

Weight limit of 60 kg

10 mph

Ride-time of 6.2 miles

Cruise control and safety mode
The E8's faster, more powerful big brother. Whenever your kids are ready to take things up a notch, the ZING E10 is ready for them!
Its larger wheels and suspension system make for a super-smooth ride. The safety mode is a big hit with parents, and the LED battery light indicator is a valuable addition too.
7. Razor Power Core E90
Suitable for 8 years +

10 mph top speed

Runs far longer than most of its competitors
If your kid has been frustrated by the run-times of other scooters, the Razor Power Core E90 is here to save the day. At top-speed and maximum load, it rides for 80 minutes within charges. So even more when it's running lighter or not so fast. Pretty impressive stuff!
8. Pulse Performance Electric Scooter
Suitable for 8 years +

55 kg weight limit

8 mph speed limit

Urethane tires for the smoothest ride
This one might not be as fetching as some but where it does score well is for its robust frame, durability, and the sleek ride given to it by the urethane tires. 
9. Razor Pocket Mod Miniature Euro
Suitable for 12 years +

77 kg weight limit!

15 mph 
As you know, your kids are always in a hurry to grow up, and with the Razor Pocket Mod Euro Miniature, they'll get to feel that urban chic as they happily buzz around the neighborhood!
It's actually kitted out like the adults model too, the only difference being the size. With a 77 kg weight limit, you might even be able to pop on this yourself. Just to test it, of course…
You can also check our article on the 9 Best Kids Scooters.
Conclusion
That's a pretty impressive range of styles and features; I'm sure you'll agree! I'm genuinely excited to see what direction the electric scooter for kids market takes in the next few years. Just these last two or three years have seen some phenomenal innovations.
Hopefully, we've given you plenty to chew on there to help you make a choice you don't want to take too lightly. Why not have a look at our range at wheelywheels.com?  
There's lots more to choose from, and our friendly experts are on-hand to help you with any questions you have, big or small. The scooter of your kid's dreams could be just a few clicks away. 
And the search is half the fun…. Enjoy!