Top 8 Fastest Scooters in the World: According to Real Data 
The days of electric scooters being just Toys For The Boys are long gone. As are the days where their speeds were something closer to that of a milk float! No, these days, with their popularity sky-rocketing, so have the numbers they have been reaching on the pedometers. 
It was inevitable really. Man's innate desire to push how far and fast he can go. The wind in your hair. That shot of adrenaline that makes you feel so alive. Whether you are pondering putting your money down and want to check out the best electric scooter for adults, or you're an enthusiast, curious which models are pushing the boundaries of performance these days, here's our run-down of the top 8 fastest scooters in the world, as backed-up by the clock. I advise you put your helmet on for this one!
What are the fastest electric scooters in the world?
This list is based on real-world testing using a high-precision Racelogic GPS system and is based on statistically repeatable measurements and standardized testing procedures. 
So no numbers read off inaccurate electric scooter speedometers or manufacturer's estimates!
8. MINIMOTORS Dualtron Storm
: Top Speed 83.1 kmh
Beauty AND the beast! The Dualtron Storm boasts a 640-watt motor *gulp*, but its enthusiastic throttle response and sporty stiff suspension, come with a sleek, attractive appearance.
And it doesn't end there. It actually comes with the world's largest swappable battery, weighing in at a brutal 14kg (!). So if you carry a spare, you can travel not far-off 100 miles before you need to plugin. Not too shabby, eh?
If you are after the practicality and convenience of that battery power, without compromising speed and performance, Dualtron Storm is a perfect choice.
83.1 kmh

640-watt motor

14 kg battery

86 km range
7. WEPED SS
: Top Speed 90km

These guys are harder to get hold of than Bin Laden, but several independent sources have verified they can touch the dial at a mighty-impressive 90km!
Don't let the rainbow-colored lights deceive you, this is no toy!!!
90 kmh

72V Samsung battery

Adjustable front and rear suspension
6. Minimotors Dualtron Thunder II
: Top Speed 93.9kmh 
Who says the sequel can never be as good as the original?
Minimotors took their popular Thunder model and pimped it up into one of the fastest, most powerful 60V scooters we've ever seen.
72V battery. Double the peak output power. New 'flat-proof' tires. A slick double-click throttle is the cherry on the cake. And they've not skimped on the battery either.
We're on the edge of our seats to see if they make it a trilogy.
93.9 kmh

72V battery

Flat-proof tires (no, really!)

Double-click throttle
5. NAMI Burn-E (Viper)
: Top Speed 94.7 kmh
Some of these scooters' test numbers are absolutely off-the-chart! Not only does it boast some of the most impressive stats out there, but it also has a throttle response the envy of every other scooter in this list, as well as a range north of 85km's. 
94.7 kmh 

72V Panasonic battery

Adjustable 165mm hydraulic coil suspensions

Water-resistant IP55 and IP65 rating
4. Kaabo Wolf King
: Top Speed 95.6 kmh 
It looks like the spitting image of its country-cousin, the 60V Wolf Warrior, but when you tug on that throttle for the first time, you'll feel the difference. 
This bad boy demands your attention. If you are looking for a mix of ear-flapping speed and affordability, you can argue makes it, pound for pound, the Kaabo Wolf King is the top dog.
95.6 kmh

72V battery

Front and rear disc brakes

ABS as standard

11" off-road tires
3. Minimotors Dualtron X2
: Top Speed 97 kmh
I tell you what, Minimotors are not guys who are happy to rest on their laurels! Their THIRD model in this list. We were impressed with their Dualron X a few years back, but this, is frankly ridiculous!
It has a unique square deck and some truly monstrous 33cm tires that means it will never get lost in a crowd. Its dual suspension handles off-road riding with ease, and (if you are not going for a race edition) its range is in the triple figures. 
Yes, it's as heavy on the driveway as it is in the pocket, but its acceleration and torque make it a popular choice for real scooter aficionados. 
97 kmh

72V LG battery

149 km range

13" ultra-wide tires
2. Kaabo Wolf King GT:
Top Speed 98.2 kmh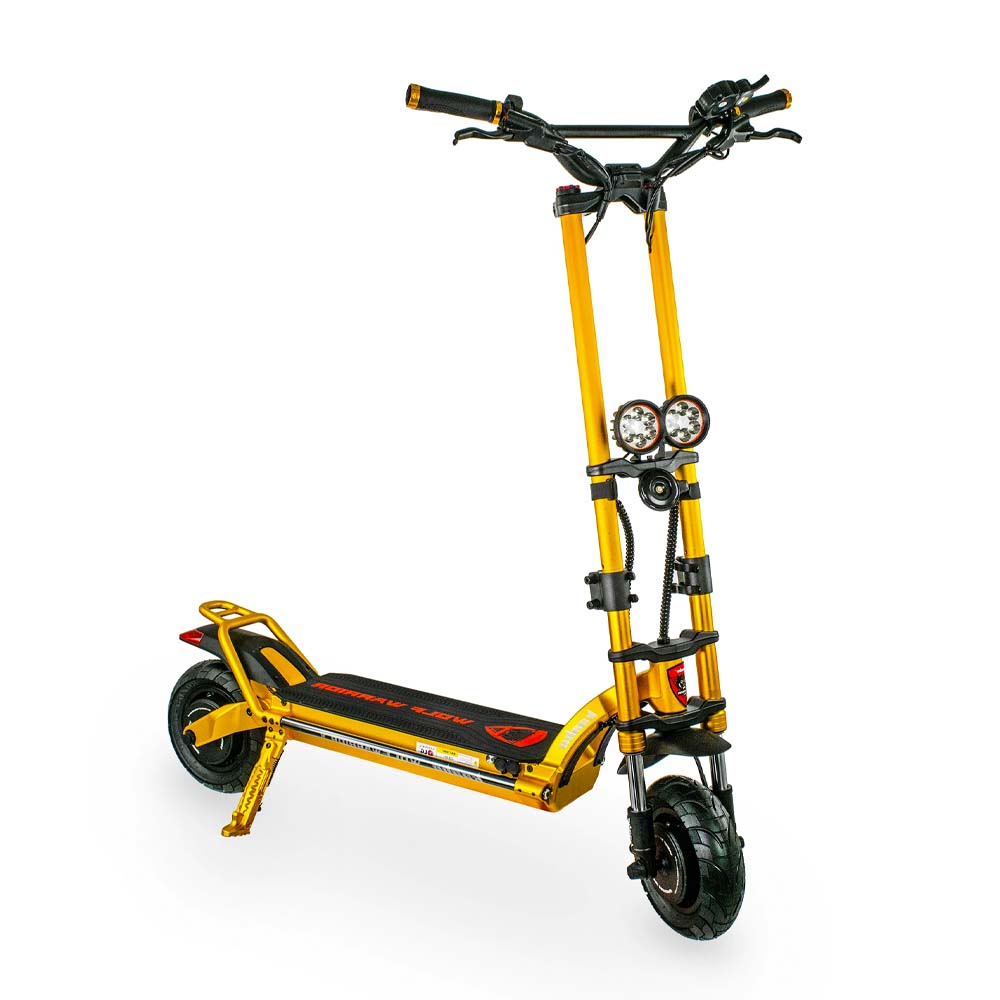 Kaabo hasn't just gone back to the drawing board, they smashed it up and started again. Okay, that analogy doesn't really work, but I hope you get my point.
What a job they have done upgrading the Wolf King. Not content with being a third more powerful, it's a much smoother ride, and control is much easier. And it doesn't end there: improved water resistance, 25% larger battery, self-sealing tires, and beautiful, bright center display that deserves to hang on a wall somewhere. Not sure if you have guessed, but I'm a bit smitten with this one.
98.2 kmh

72V Samsung battery

180 km range 

11 hours + charge-time
And, now, if we can have a drum-roll, please…. In at number one is:
1. Rion RE90:
Top Speed: 121 kmh
 
A hand-made work of rare beauty and craftsmanship that packs a hell of a punch!
They claim their latest model can hit 161 kmh, but we can only go by our verified times here. Even so, at 121 kmh the Rion is officially the fastest electric scooter in the world!
As well as the most powerful, perhaps unsurprisingly, the RION comes in at the biggest price tag too, over $7000 dollars. 
To be honest, that is going to be out-of-reach of most scooter fans, but if you can make the investment, it's a feat on modern engineering that has to be seen (and felt) to be believed!
121 kmh

96.6V battery

Dual motor

In-board mini-computer

95 km per charge
You can also check our article on the 9 Best Kids Scooters.
Conclusion
I hope you've enjoyed our ride through the fastest and very best electric scooters for adults. If that hasn't whet your appetite, I don't know what will!
Of course, all that speed is nice, but not everyone invests in an electric scooter just for the speed. Whatever your reasons, and whatever you are after, check out our collection at wheelywheels.com.
Our friendly expert advisors are ready to answer any questions you have. Our website includes a nifty live-chat function, or you can get us via info@wheelywheels.com or (862) 305-0264. We're ready whenever you are!