Best Electric Bike Conversion Kits: Give Your Current Bike A Power Boost
Converting your bike to an electronic model is one of the best ways to improve your riding experience and reduce hardships. With a cheap electric bike conversion kit with battery, you can go to faraway places without getting drenched with sweat.
Converting your bike can also add more speed to it, allowing you to go to different places faster than a normal bicycle. If you're still new to conversion kits, it would be very challenging to choose the best one. We listed down some of the best bike conversion kits that you can use.
Electric Bike Conversion Kits
1. Bafang BB02B 48V 750W Mid Drive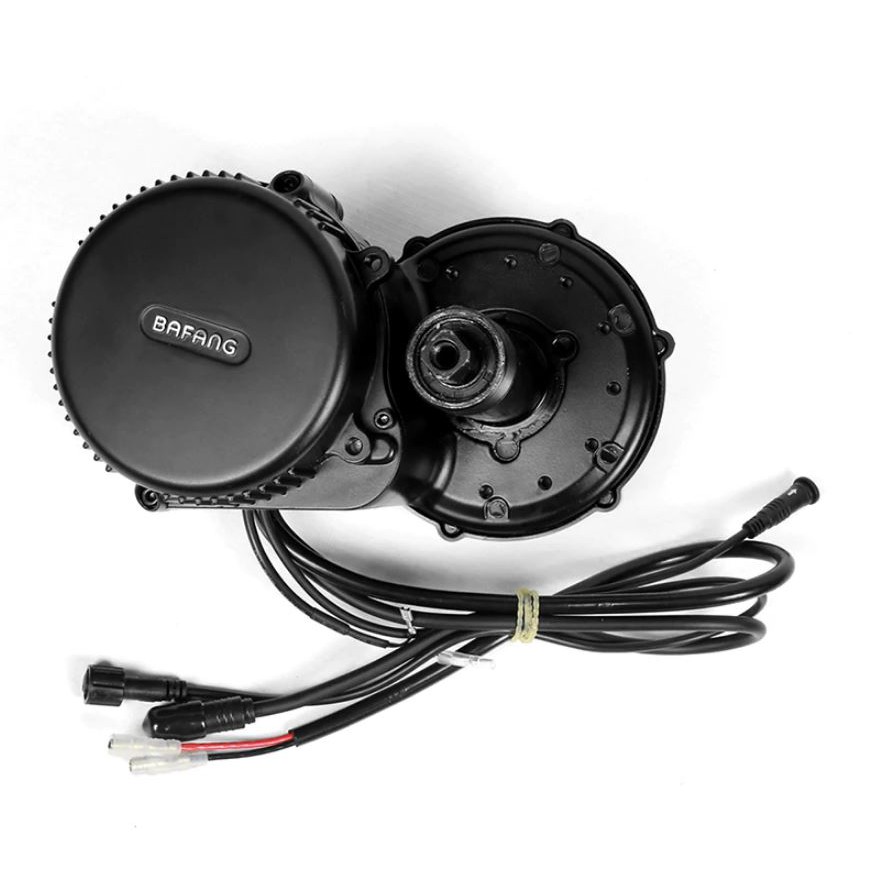 For bikers who want to experience a faster bicycle, the Bafang BB02B 48V 750W Mid Drive is the best choice for you. This conversion kit is very popular because it offers almost all the basic needs of a biker. Bafang is one of the premium brands in the market so you can expect the price to be a bit expensive. But, you can go for the 48V 13Ah battery model as it is more affordable.
With a 750W motor, it can bring 120 newton-meters of torque. This is actually one of the fastest conversion kits that you can see on the market. Anything beyond is very expensive already. The best thing about this is that it only weighs around 9.5 pounds and 55 dB, which means that it is very quiet.
This model is using a pedal-assist technology, but you should not expect any torque sensor. You can only determine the output of the motor based on the RPM of the pedals. To activate the pedal assist, you just need to use the handlebar throttle to keep it running. This is a mid-drive motor so it would keep your bike perfectly balanced. The only issue is that you cannot use this for bikes made with carbon-fiber frames.
2. Ebikeling Waterproof Ebike Conversion Kit
Not everyone is capable of buying expensive conversion kits so if you want something affordable, but still provide amazing features, the Ebikeling Waterproof Ebike Conversion Kit is the best choice for you.
This is a front-wheel motor so you won't have a hard time fitting it in your bike. If you're a beginner, most people will suggest that you get this as it is very easy to install. Also, if you get a flat, you can easily fix it compared with a rear hub motor.
The kit is amazing as it comes with a double aluminum walled rim. The hub motor is already attached to it so you only need to fit the tire and you're good to go. However, the motor is a bit heavy with a weight of 12.9 pounds. Even if it is using a peak output of 1450 watts, it can only produce around 30-newton meters of torque. This is the disadvantage of having a front-wheel option.
It comes with a TFT 750C LCD screen that can be mounted on your handlebars. This will show the speed, pedal-assist mode, mileage, and battery life of your motor. Since there's a throttle included, you can use the motor without pedaling.
3. Swytch Universal eBike Conversion Kit
When buying a conversion kit, you need to think about your personal preference more than anything else. If you plan to use the bike for commuting purposes, you should get a kit that is made for this. The Swytch Universal eBike Conversion Kit is the best choice if you are going to use your bike for errands or commuting. Daily riders will surely love this kit as it is very easy to install and lightweight. This is also compatible with different types of bikes like mountain, road, and hybrid models.
The controller and the battery are already combined into a 34.2-volt power pack. This is already included in the kit so you won't have to buy a separate one. The battery pack also has indicator lights that would tell you how much energy it still has. You can also see what type of assist mode you are currently using.
With proper setup, this system can help you achieve up to 25 mph.
4. AW 26"x1.75" Rear Wheel 48V 1000W Electric Bicycle Motor Kit
For most bike enthusiasts, speed is a very important factor. Some of them buy conversion kits just to increase the speed of their bikes. If you also have the need for speed, then the AW 26" x 1.75" Rear Wheel 48V 1000W Electric Bicycle Motor Kit is one of the most powerful models that you can get on the market right now.
With its 1000-watt battery, it will surely satisfy anyone who wants more speed on their bikes. The thumb throttle will allow you to fully maximize its speed when you're on the road. Along with speed is the aluminum frame that provides better stability and durability. When you're running at 31 miles per hour, you need better stability for your bike so it fits perfectly. When you use the hand brake, it will turn the motor off to help improve your safety and to conserve battery at the same time.
5. Aosom 26" Bike Kit
If you want speed but you're on a tight budget, the Aosom 26" Bike Kit will give you what you need. This kit is more affordable than the AW model, but it can bring you speed that is very close to it. This is very easy to use and well-priced as well. It will be installed on your rear wheel.
The motor is made specifically to fit 26-inch rear wheels. They are included in the kit so you don't need to buy a separate one. The motor is controlled by the controller and it can run up to a top speed of 28 miles per hour.
However, the only downside is that it doesn't have any disc brakes. Since it is very affordable, you will have to buy a disc brake for safety purposes. The battery is rechargeable so you won't have to replace it often. It also has a long life so you won't have to charge regularly. There is an indication that the battery is low so you won't get caught off guard.
eBike Conversion Kit Buying Guide
If it's your first time converting a bike, it would be very difficult to find a model that would fit your preference. You can ask around if you want, but doing your own research will prove to be beneficial in the long run. Here are a few things that you should know if you are going to buy a conversion kit on your own.
1. Types of E-Bike Conversion Kits
This is one of the most important things to know before you buy a conversion kit. It is also the first thing that the sellers will ask when you're buying. It's better that you already have an idea of what you're going to buy. Below are the different types of e-bike conversion kits that you can choose from.
This is the most common type of conversion kit, especially for commuters. They are the cheapest and also the easiest to fit. It means that you don't need to be an expert to install it. By looking at a few guides on the Internet, you can easily convert your bike. However, this type of kit offers less performance and feel.
By putting the kit on the front tires, you can lessen the chance of a puncture because it usually kicks up the debris on the road. If it is accidentally punctured, it is easier to replace compared to a rear hub motor.
The downside when using a front hub motor is that it cannot handle too much speed. It means that you won't be able to use a more powerful motor as it would put more strain on the front forks of your bike.
Rear hub motors are also very reliable just like a front hub model. They are also very cheap so most people prefer to use this, especially those who are on a budget. However, they are a bit harder to fit, and changing tires will be more difficult. The upside is that this type of motor can handle more power compared to a front hub motor. The weight from the rear tire can give more traction, allowing you to speed up while affecting your stability.
Compared with a front hub motor, the rider will feel a pushing sensation because the motor is at the back.
If what you're looking for is performance, then the mid-drive motor is the best option. In this kind of setup, the power is transferred from the mid to the rear wheel through the chain and gear set of your bike. This is like a typical motorcycle where you can lower gear or increase it depending on the terrain. It is the main advantage of this type of motor against the other types.
With this kind of motor, you can climb hills faster and longer without any risks of burning out. It is also lighter compared with the other types of conversion kits as it is placed in the middle.
The only disadvantage is its price. This is more expensive than front and rear hub motors so it is only advisable if you are using your bike on different terrains.
2. Power
The power of the motor is also a very important consideration when buying a conversion kit. There are models that are not too fast so they are perfect for day-to-day activities, especially if you don't go too far from your house.
When checking the power of the motor, you need to check its watts and newton meters of torque. Watts is similar to horsepower. It will indicate the number of watts the motor can sustain continuously without the risk of overheating.
If you only need to commute from your home to your work and you don't need too much power, you can opt for a 25-watt motor. If you encounter hills or you are always riding off-road, you need to get a 750-watt model at the very least.
As for the newton meter, you can choose based on the terrain in your area. If you don't need to speed up on hills, 40-newton meters of torque is good enough. If you need to drive on rough terrain, you should at least get 80-newton meters of torque.
3. Battery
Some models come with a battery, but some of them don't. If you encounter a kit that comes with a battery, you will have many options to choose from so you need to know which one will work for you.
Take note that larger and more powerful motors will drain your battery faster, which means that you need to choose based on the power of the motor. You will have to consider how long you ride every day and how much assistance you need when you're driving your bike.
The more you rely on the motor, the faster the battery will drain.
4. Sensor
You will encounter two types of sensors when buying an E-bike conversion kit.
Cadence
This type of sensor will detect when and how fast your bike pedals are moving. Once the sensors detect your pedaling, they will apply a proportional amount of power depending on how fast you pedal. They are cheap and easy to fit, but the power delivery can be a bit unnatural.
Torque
Torque sensors will deliver power based on the force of rotation on the crankset. It will provide a more natural power delivery when you are ascending or descending steep roads. This type of sensor can even extend the battery life of your motor as it will only provide the power as needed.
You can also check our article on The 12 Best Electric Bikes for Every Kind of Ride.
Conclusion
It may seem difficult to find a cheap electric bike conversion kit with a battery, especially if you're a beginner. But, with a little bit of research, you can easily find the one that would fit your needs. Do not blindly choose a conversion kit and always pay attention to the tiniest details to prevent any problems during the installation.
If you need an affordable electric bike conversion kit with a battery, there are a lot of options on the Internet to choose from.